Presentation Guidelines
For Presenters of Symposia and Oral sessions
1. Preparation
Languages
•Plenary Lectures, Special Lectures and Special Educational Lecture: English
•Educational Lectures: Japanese/English
•Award Lectures: English
•Symposia: English
•Oral Sessions: English
* Q&A may be conducted in Japanese, if the chairs decide to do so in exceptional circumstances to reinvigorate discussions.
Presentation Time
•Symposia: Please keep within the time allotted by the organizers.
•Oral sessions: 10 minutes for presentation, 5 minutes for discussion.
Presentation Slides
・Create presentation slides whose size is 4:3.
・You can use video or animation to your slides. If you present on-site, check if videos or animations are being played normally when your computer is connected to equipment in the session room during monitor checking.
・Audio output is not available.
2. Presentation
[On-Site Presenters]
•Presentations should be delivered using your own computer.
•Please bring your computer to the PC Preview Desk (located at the front left-hand side of the presentation room) 20 minutes prior to your presentation to check the output.
•Create backup data of your presentation in a USB flash memory and bring it with you to the meeting. We kindly ask you to have backups of your computer content to protect data from accidental loss.
<IMPORTANT>
・Bring the AC adaptor for your computer.
・We use a D-sub 15 pin or HDMI monitor connector to connect your computer to the projector equipment. If your computer has other formats of monitor output than D-sub 15 pin and HDMI, please bring the connector for your computer.
•Deactivate password lock, screen-saver, virus scan, and power-saving mode in advance.
• Prepare a backup of your presentation data and bring it to the site. We also kindly ask you to have backups of your laptop content to protect data from accidental loss.
[Online presentations (Symposia)]
Please read through the manual for presenters of symposia and oral sessions. The meeting staff notifies you how to access the manual.
For Presenters of Poster sessions <On-site presentation July 28-30>
Poster Preparation
・Please prepare your poster according to the following panel size and figure.
The usable area of the poster panel is:
 Height: 190 cm
 Width: 150 cm
・Posters must be prepared in English.
*To Industry-Academia Collaboration Poster Presenters: In addition to the posters, please prepare a summary in Japanese on a single A4-sized paper for distribution to interested parties in order to explain more clearly to industry participants during the poster session.
・All presenters are required to make a disclosure about the state of conflict of interest and it should be stated at the bottom of your poster. Please refer to COI (conflict of interest) Declaration for more information on COI.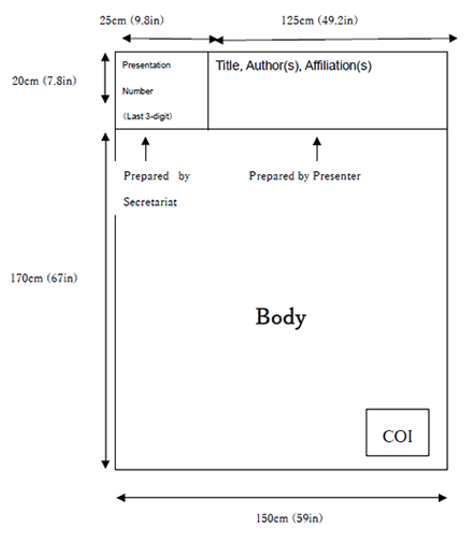 Presentations
Date
Presentation Number
Set Up
Viewing
Presentation & Discussion
Removal
July 28, 29
Odd No.
8:30-9:00
9:00-18:30
13:20-14:20
18:30-19:00
Even No.
14:20-15:20
July 30
Odd No.
9:00-17:00
13:20-14:20
17:00-17:30
Even No.
14:20-15:20
[On-Site Presenters]
・Place your poster on the panel indicated by your poster number within the designated installation time. Remove it within the designated removal time.
・On your designated panel, you will find thumb tacks for placing your poster. Please do not use glue or tape.
・Attach the ribbon on your chest and stand in front of your poster during your presentation and discussion time. There will not be a chairperson proceeding the poster sessions.
・All posters remaining after the removal time will be discarded by the Secretariat.
・The organizer and secretariat will have no responsibility for any theft, loss or damage of posters.
For Presenters of Poster sessions <Online presentation July 31>
Online poster presentations are delivered on VirBELA: the virtual world platform.
Please create an account of VirBELA and join poster discussions in the virtual space, which is the first attempt in JNS meeting's history.
Please click here to watch the video tutorial
VirBELA orientation
You will have a VirBELA orientation to know how to use and practice it.
It will be held on Saturday, July 31 in the same virtual space. The URL to enter the space will be notified by the meeting secretariat via email.
If you upload your e-Poster during the orientation, it will remain posted until the real poster session starts. If you can prepare your ePoster by the orientation, you can post it during the orientation.
Session space: Open from Thursday, July 29
Virtual space for poster presentation will open from July 29. You can enter the space and rehearsal a presentation.
If you are not able to join the orientation, please do the operating test on either July 29 or 30. The operating staff will stand by in the virtual space from 9:00-17:00 (JST) on both 29th and 30th of July. Please feel free to ask the staff if you have any questions.
Creating Poster data and how to deliver presentation
Please prepare your poster data as below. Click here for more information.
Data format: Image file (PDF、JPEG), slide file (PPT), or video file (MP4, MOV, M4V)
Capacity: 30MB
[Inquiry]
Please contact the VirBELA support desk at the following address for inquiries.
E-mail: help@virbela.com
※Responding in English Only
Request concerning use of Color in presentation materials
Approximately 5% of Japanese men (3 million people) and 8% of Caucasian men have a specific type of vision that makes it difficult to distinguish between colors in a particular range, including red and green. In light of this, you are requested to take the following points into account when preparing presentation materials.
Images of two-color staining or DNA chips should be displayed in green and magenta, not in green and red.
Three or more stains should be displayed not only as composites containing all three colors but also with the two most important colors shown alone in green and magenta. (Alternatively, images of each channel can be displayed separately.)
In graphs and explanatory figures, it is extremely difficult to match colors shown in two separate places. For this reason, do not use only color-coded descriptions or legends for different items but also write them directly into figures. Do not differentiate between items by using different colors, but rather with different types of lines, shapes/symbols, or various types of hatching.
On a dark background, please use white, yellow, or orange letters rather than thin, red or blue ones as much as possible.
For further information, refer to http://www.nig.ac.jp/color/.
COI (Conflict of Interest) Declaration
Please place the information either at the top or on the last page of your slides, or the bottom of your poster.
COI Disclosure Sample Slides
For more detail regarding COI, please refer to the JNS website.
Guidelines on a Conflict of Interest (COI)
[Basic Guidelines]https://www.jnss.org/en/coi_basic
[Operational Guidelines]https://www.jnss.org/en/coi_management?u=5b4b45e0ee3cd392da9cf6c05b062e35